Houston Garage Door Repair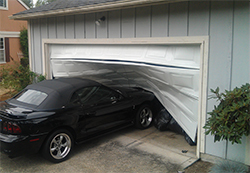 Our trained technicians are experts at any garage door repair and will correct your garage door issues the first time. We provide garage door repair service for both residential and commercial garage doors. Overall there are many garage door repairs that can bring your door back to life without breaking the bank. If there is any reason a garage door repair won't solve your problems we can replace all major parts or install a complete garage door package.
To correctly fix garage door problems we train all of our technicians the proper procedures they need to know to fix garage door problems. Not everyone can fix garage door issues the correct way. When we fix garage doors, we evaluate the cause of the problem and apply the best solution to fix the garage door. To fix garage door problems when your door seems too heavy and is hard to open we can adjust or if needed replace the springs. To fix a garage door problem that your opener might have we can replace the gear and sprocket or carriage assembly which may be much cheaper than buying a new opener.
To fix garage door issues where your door closes doesn't open or close correctly, gears, sprocket and carriage assembly replacement may solve the problem. To fix garage door problems with you opener's chain or belt, we can adjust them or replace them to make them work properly. To fix garage door problems with your button or wireless remotes, we carry most brands on our truck. We will offer you the best and most cost effective way to fix your garage door.
24 Hour Garage Door Repair in Houston TX
One of the most important components of a properly working garage door is the springs. When a garage door spring does break, your door—which typically weighs more than 150 pounds—is unable to open or close. Whether it's picking up the kids from school or ensuring your garage door is secure to protect your home and family, we know you rely on your garage door working properly.
A word about garage door springs: for most people, replacing their own springs is not practical and can be dangerous. A snapped garage door spring can severely injure a person due to its high level of torsion. You have to replace the spring with the exact same size or the door will not balance properly. You also have to remove and re-install the torsion tube assembly and all its parts. And finally, you have to rewind the springs (which can be very dangerous if one snaps). While there is a popular do-it-yourself guide on the web, it is 10 pages long, requires you to make your own tools and to order parts.
In fact, one of our customers bought garage door springs on the web and waited 10 days for them to arrive. When they finally did, he ended up calling us. His new springs were absolutely the wrong size. We traded them with our garage door springs and fixed his door for him. The result: 10 days with no door, a lot of reading and research, the cost of the parts plus his labor, only to have us install the garage door springs in the end. And the worst part is, he could have been badly injured.
Garage Door Repair Service Areas
Our mission is to provide the best garage door repair service. We are garage door experts and have the experience to fix garage doors properly. Garage Door Repair Houston has been a recognized name in Garage door repair, a new garage door or to fix a garage door. We install and service any major brand and model of garage door. Our garage door repair covers everything that could be wrong with your garage door. We also repair or replace garage door openers. Our "fix garage door" service will make sure your garage door works every time! The next time you need a Garage door repair, or you need us to fix garage doors, we're just a call away!
---
Home | Installation | Services | Parts | Repair | Contact Us