Houston Garage Door Installation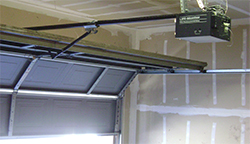 If you're searching for a trusted, experienced company to handle your garage door replacement, look no further. Our highly trained professionals have been operating in many Texas counties, and they have earned the reputation as being friendly, knowledgeable, and always doing what they say they will do. So whether you're looking to replace an unsightly garage door in your house or upgrade to new hurricane rated doors for a garage at your business, garage door repair company has all the products and services you need.
Upgrading your garage door to include an automatic opener or installing one with your new door is a smart choice for homeowners. Automatic garage door openers provide the safety and ease you deserve – contact us today and have an automatic garage door opener running this week!
We carry LiftMaster and Genie automatic openers and can provide repair and parts replacement for all other models to ensure the safety and security of your garage. If you have non-traditional garage door opener needs, we also sell and support jackshaft openers. These powerful side-mounted devices are ideal for providing you with extra overhead space and operate using an ultra-quiet motor.
Worn gears, bad safety eyes, bent rails and damaged logic boards. These issues are common in garage door openers. We can fix most of them on the first trip out to your home. We carry most replacement parts for the common garage door opener brands on our trucks, however other problems may require a return visit.
Bent or sagging garage door panels, broken hinges or worn and broken rollers? All of these problems can affect the operation of your garage door and, if not repaired, can cause even more damage—possibly causing the entire door to be replaced. Bent garage door panels often cost more to replace than to install a new door, so have us take a look to see what the problem really is. Regular preventative maintenance is also recommended to keep problems from getting worse. Call us to schedule a garage door Tune Up or a repair. We are fair and honest.
The springs on your garage door are designed to make it seem very light and easy to operate. When the springs break, however, the garage door can become very heavy. A garage door typically weighs more than 150 lbs, which means you will not be able to use the garage door until it is repaired. We can fix it fast and we can fix it right.
Garage Door Installation Service Areas
Whether it's a broken spring, a broken chain, a bent or damaged part, or a problem you can't identify, don't worry! Our garage door service experts are available to solve your garage door problems and get things running smoothly again in no time with a reliable repair from Garage Door Houston. If you have been advised by other garage door companies that your door needs replacing, give us a call. In most cases you will not need to replace your garage door at all and it could only take a simple repair. We will always provide you honest answers as we want you as a customer for life.
---
Home | Installation | Services | Parts | Repair | Contact Us