Houston Garage Door Services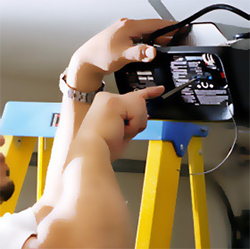 From steel to wood to wood-free to fully-customized, we carry every kind of top-quality door and at a fair price. Our doors far exceed the standard doors that are found on new homes today. In fact, our doors have rollers with ball bearings to provide years of quiet, smooth operation. Our hinges are full-size and made of 14-gauge steel, which will last longer and are less likely to bend. And we use only torsion spring systems for a level, smooth operation. These extra measures ensure that your door will last for years.
The right opener allows you to come home from a hard day's work and park in a dry, secure environment—without getting out of your car. We carry the industry's best, including a wide selection of LitfMaster openers—from the economical Chain Drive to the ultra-quiet Belt Drive. Every year, we install hundreds of openers to fit everyone's budget and lifestyle. So whether you need something cheap and reliable, or you have a bedroom above or near your garage and require the quietest model on the market, we have what you need.
One of the most important components of a properly working garage door is the springs. When a spring does break, your door—which typically weighs more than 150 pounds—is unable to open or close. Whether it's picking up the kids from school or ensuring your garage door is secure to protect your home and family, we know you rely on your garage door working properly. In most cases, we can fix your door on the day you call! New springs are guaranteed. Always. For as long as you own your home, and our labor is guaranteed for three years.
24 Hour Garage Door Services in Houston TX
We have the skills, tools and training to ensure your commercial project is handled just right. We use top-quality Amarr commercial steel doors and we carry or can customize a wide variety of widths and heights to suit most any size opening or design. Our sales team and technicians will work with you to achieve all your commercial goals—whether it's improving the quality and usability of your garage doors, reducing your maintenance costs or ensuring your doors work properly and safely all year round.
Is your garage door stuck up or down and you can't get in or out? Or have you or a family member run through the garage door? Not to worry. It does happen. But the good thing is that Garage Door Houston is here to help. And fast! We offer 24-hour garage door emergency service to help you secure your home and family when your garage door malfunctions in any way.
Just give us a call and we will be out to your home as soon as possible. And we won't charge you a premium for the call. In fact, we don't charge for service calls at any time of the day or night. We only charge for the cost of repairing or replacing your garage door or garage door opener.
Garage Door Service Areas
Garage door repair can be an effective way to solve the problems you have without replacing the entire door. A garage door repair may be something as simple as an adjustment to the rollers or spring. Another simple garage door repair may be adding supports to straighten out your garage door or support cracked door panels. Installing a new button or wireless remote is another inexpensive garage door repair. Some garage door repairs like replacing the spring system or a garage door panel may cost a little more but are still very inexpensive compared to replacing the whole garage door system.
---
Home | Installation | Services | Parts | Repair | Contact Us